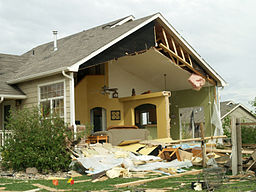 I recently received a phone call from my insurance agent who informed me that there had been a major change in my homeowners insurance policy and he wanted to make sure that I was aware of this change. Specifically, my insurance company would no longer pay the full cost to replace the roof of my home in the event of hail or wind damage. Instead, the cost of how much they would pay for a new roof would depend upon the age of the old roof, plus there was also a minimum $5,000 deductible.
For example, if my existing roof was 15 years old when it was damaged and had been expected to last 30 years when it was originally installed, my insurance company would now only pay 50% of the replacement cost, minus another $5,000 deductible. This was a big change from my existing policy which would pay the full cost of a roof replacement and only a $1,000 deductible. When I asked my agent whether my homeowners insurance premium would go down, he replied "probably not."
He explained that the reason for this change was that severe weather had become much more frequent in Indiana, and that this insurer was paying far more in weather related claims than it was collecting in premiums. So rather than raise rates dramatically, my insurer decided to dramatically lower coverage for storm related claims, but keep rates the same. I typically read my insurance policies carefully, but even I had overlooked seeing this change in my new policy and would not have noticed it except for a phone call from my very conscientious insurance agent. All in all, not a bad deal for the insurance company, not so much for the homeowner.
So what to do? Call your insurance agent and discuss what coverage you have for your home if there is a storm related claim. Specifically, ask if your insurer will pay the replacement cost of a new roof, or whether the cost of a new roof is "depreciated". If the cost is "depreciated", then shop for a new insurance company that pays replacement cost.
If you have questions regarding what your insurance agent tells you, call my office for some free advice. My office is here to help.
For experienced help after an auto accident or to talk to me about your injury, contact James F. Ludlow, Attorney at Law, P.C. My firm can be reached toll-free at (877) 897-9466 or by filling out the simple form on the Contact Us page.