Slip and Fall Accidents – Aggressive Representation. Just Compensation.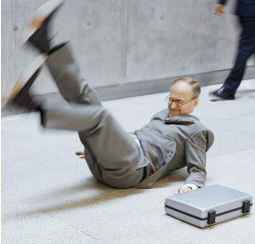 If you slipped and fell because a store or other property was not kept in a safe condition, I can help you seek just compensation for your injuries. Since 1987, I have helped injured people with personal injury claims that are caused by slip and fall accidents. A slip and fall may be embarrassing at the time, but injuries that may occur in such accidents can be serious and cause long-term hardship.
My firm has represented personal injury clients throughout Indiana who were injured due to a variety of causes, such as icy sidewalks where no salt or sand was applied by the property owner, wet floors, or even defective store displays that fell on store patrons.
I handle all cases involving slip and fall injuries, including:
• Knee injuries, such as a torn meniscus or ACL
• Shoulder injuries such as rotator cuff tears
• Head injuries
• Back injuries
• Hip and other fractures
Injuries from a slip and fall incident may not seem serious at first. However, as days pass, the pain from such an injury may become severe. Thus, what was thought to be a bruise or strain actually is a more serious injury.
Other injuries, such as a hip fracture, can have devastating results immediately, particularly in an elderly person. In fact, hip fractures are often fatal in individuals over age 65 because of complications that may arise such as phenomena and blood clots. This is especially alarming considering that injuries from a fall are a common result of nursing home negligence.
A Great Financial Recovery Is No Accident
Slip and fall accidents are part of a personal injury category known as premises liability. Under Indiana law, the owner of a business or store is required to take reasonable measures to keep their property in a reasonably safe condition for persons who will be using the property.
As a practical matter, this means for example that if it snows, a property owner must take reasonable precautions for the safety of their customers, such as plowing the parking lot, shoveling snow from a sidewalk, putting down salt or sand on slippery outside areas, and placing floor mats inside the entry of the store to soak up water on the floor that may be tracked in. If the property owner failed to take reasonable precautions for the safety of their customers, they may be held legally responsible if someone falls and is injured.
In my practice, I carefully investigate your premises liability claim to discover if the store or property was in an unsafe condition at the time of your accident. One tactic that I frequency use is to request the videotape that was made from any video surveillance camera that may have been in use at the time of the incident by the store. Such tapes provide objective evidence as to exactly how the incident occurred, and what steps store employees did, or did not do, to keep the store in a safe condition.
For example, in a recent case involving a slip and fall injury at a gasoline station where my client fell because of water on the floor at the store's entrance, store employees testified that they had put out wet floor signs and floor mats prior to my client's fall. Unfortunately, my client sustained a serious knee injury in this fall that required several surgeries. However, the video surveillance tape that the store had intended to catch shoplifters showed that there were no wet floor signs or floor mats in use. Consequently, the case was successfully resolved.
In my experience with slip and fall cases, I have found that unfortunately many businesses appear more concerned with making sure that their employees don't steal than with making sure that the premises are safe for their customers. As a result of discovering and documenting such practices I have been able to successfully resolve many such cases.
I also understand how a serious slip and fall injury can affect you, both personally and financially. I strive to carefully evaluate how and why the accident happened, and to persuasively show how the long-term consequences of your injury may affect your life. The ultimate goal is to make sure that you receive the compensation you deserve.
For experienced help after a slip and fall accident or to talk to me about your injury, contact James F. Ludlow, Attorney at Law, P.C. My firm can be reached toll-free at (877) 897-9466 or by filling out the simple form on the Contact Us page.