Semi Truck Accidents – Aggressive, Effective, and Experienced Representation for Truck Accident Victims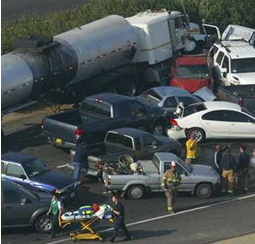 An accident involving a semi truck — also called a big rig, 18-wheeler, or tractor-trailer — can often cause more serious injuries than a car accident because of the truck's weight and size. A semi truck accident can result in permanent or very serious injuries that can dramatically affect your life.
My goal is to make sure that you receive just and fair compensation for your injuries as soon as possible. To accomplish this goal, I quickly and thoroughly investigate the cause of the accident, work hard to have a full understanding of the nature and extent of your injuries, and then persuasively present your case to the liability insurance company for the trucking company who caused your accident with the goal of getting you a fair settlement. If the liability insurer won't agree to pay a reasonable amount, I will then be fully prepared to present your case to a jury.
Fortunately, most such cases do settle without having to go to trial. By understanding how the injury affects you physically and financially both now and in the future, and in knowing how to persuasively document and prove your case, I can help you present a strong personal injury claim that makes going to trial unnecessary.
A Great Financial Recovery Is No Accident
I have practiced personal injury law for more than 25 years. I provide prompt service and investigation of your truck accident. This includes getting a full understanding of how the accident occurred.
In addition to interviewing witnesses to the accident, the on-board data recorder that most semi-trucks now carry can provide valuable information about how fast the truck was going when it hit your car or motorcycle. The truck driver's log books and other records such as fuel receipts and maintenance records can also show whether the driver followed federal trucking regulations for driving hours. In fact, various studies have shown that about two-thirds of truck drivers report problems with fatigue while driving.
Semi truck accidents are caused by many preventable practices, including:
Excessive speed
Driver fatigue
Unbalanced loads
Overloaded trucks
Poor or negligent truck maintenance
Driver carelessness or negligence
If you suffered a spinal cord injury or other serious injury in a semi-truck accident, I can investigate the cause of the accident to assess whether you are entitled to compensation. I can also handle your wrongful death claim if your loved one was killed in a semi truck accident.  Contact James F. Ludlow, Attorney at Law, P.C. My firm can be reached toll-free at (877) 897-9466 or by filling out the simple form on the Contact Us page.