Pedestrian Injuries – Aggressive, Effective, and Experienced Representation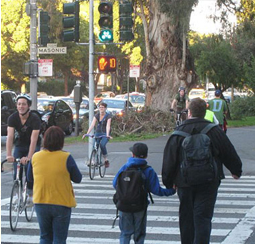 The National Highway Traffic Safety Administration reports that on average a pedestrian is injured in an accident every 8 minutes in the United States, and that there is a pedestrian fatality every 120 minutes.  In 2010, 4,280 pedestrians died in traffic crashes, a 4-percent increase from the number reported in 2009. 62 of those fatalities were in the State of Indiana.
The primary cause of pedestrian accidents is driver negligence. These accidents can occur when drivers:
Fail to yield the right of way
Back out of parking spaces
Speed in residential areas
Fail to stop at or slow down at stop lights, crosswalks and signs
Turn right on red without looking for pedestrians
Drive recklessly
Drive while under the influence of alcohol and/or drugs.
Pedestrian accidents can result in serious injuries including head injuries, traumatic brain injury, spinal cord injury, burn injury, amputation injuries, back and neck injuries, multiple fractures (broken bones) requiring surgical repair, other serious injuries and death in some cases.  Injuries may require extensive time and rehabilitation to heal, and some injuries may recur in the future.
No one can change the past, but working together, we can change what happens next.
My firm is dedicated to understanding how a serious injury affects my clients' lives, and obtaining the financial compensation they justly deserve. In pursuit of this goal, my firm employs a registered nurse and consults with a variety of experts who provide invaluable insight into how an accident occurred, how the injury may affect my client's ability to earn a living or perform normal activities, and what medical complications they may experience in the future because of their injury, such as post-traumatic arthritis.
Providing Quick Action to Preserve Accident Details
My firm will quickly investigate your accident claim, evaluate the severity of your injuries, and make sure that you receive fair and reasonable compensation as soon as possible so that you can get on with your life.
For experienced help after a pedestrian accident or to talk to me about your injury, contact James F. Ludlow, Attorney at Law, P.C. My firm can be reached toll-free at (877) 897-9466 or by filling out the simple form on the Contact Us page.