Nursing Home Negligence – Fighting to Protect Your Loved One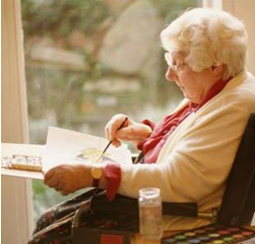 You trust that your mother, father or other loved one will be safe and well cared for while in a nursing home. Sadly, many nursing homes are understaffed, staffed with unqualified or untrained workers, or are more focused on making money than with providing appropriate care to their patients. Abuse and neglect of the sick or disabled must never be tolerated. If your loved one was injured, abused or neglected while in an Indiana nursing home, I can help you protect their rights.
A Great Financial Recovery Is No Accident
The law firm of James F. Ludlow, Attorney at Law, P.C., helps families hold nursing home staff and supervisors responsible for any neglect or negligence that affects a patient or resident. With more than 20 years of experience in personal injury claims, I work with families to pursue just compensation from nurses, administrators, owners and other nursing home personnel.
Our elderly loved ones deserve to be treated well in their last years. Their health and bodies are often fragile and need special care. Because their balance and strength may be compromised, falls and injuries are more likely in the absence of adequate care and support from a well-trained staff.
Assisting Families with Claims of Negligence
Nursing home negligence claims can be based on actions or procedures that result in an injury to a patient or resident. I handle nursing home negligence and neglect cases based on circumstances such as:
Failure to assess risks of falling that result in hip fractures, head injuries or spinal cord injuries
Failure to properly care for bedridden residents, resulting in bed sores
Failure to monitor bathing and hygiene, resulting in illness
Failure to properly screen employees
Failure to provide adequate staffing
Use of improper restraints or security
Physical or verbal abuse
Medication errors
Neglect
Negligence in a nursing home can result in serious injury or death. Hip fractures, for example, frequently lead to death for people over 65 years of age. If your loved one died due to nursing home negligence or neglect, I can also represent your family in a wrongful death claim against the nursing home.
I have six convenient office locations in the Indianapolis area to make it easier to talk to an experienced lawyer about a case of nursing home negligence.
Contact Personal Injury Attorney James F. Ludlow in Indianapolis
Many people don't think they can afford an experienced personal injury lawyer, especially when they may have thousands of dollars of medical bills that they are struggling to pay. To address this worry, I offer free consultations with no obligation whatsoever. My firm works on a contingency-fee basis, and I don't get paid unless I obtain a successful recovery for you.
If you believe your loved one is a victim of nursing home negligence or elder abuse, contact James F. Ludlow, Attorney at Law, P.C. My firm can be reached toll-free at (877) 897-9466 or by filling out the simple form on the Contact Us page.