Motorcycle Accidents – Aggressive, Effective, and Experienced Representation for Motorcycle Accident Victims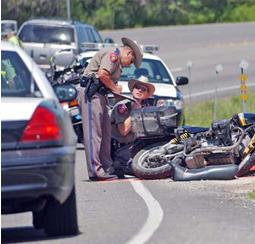 My law firm is dedicated to serving the interests of injured motorcyclists in Indiana and throughout the Midwest. For more than two decades, I have helped injured clients after they were seriously injured in a motorcycle accident. I understand how serious injuries affect people physically, emotionally, and financially, both now and in the future. I have experience in handling claims with many types of injuries, such as:
• Brain injuries, such as traumatic   brain injury (TBI)
• Road rash and other burns
• Head and neck injuries
• Broken bones
• Hand, foot, knee, and shoulder injuries
In many cases, the person or corporation who caused the motorcycle accident will claim that the motorcyclist was partially at fault or responsible for the accident, even though there is no basis for such an argument. For example, I have had a number of cases where the person who drove a car that struck a motorcycle admits that they didn't see the motorcycle before hitting it, and yet they still claim that the motorcycle driver was speeding. If they didn't see the motorcycle before the crash, how could they know it was speeding?
Understanding how a motorcycle operates, such as the distance that it takes to stop a motorcycle from a particular speed, is important in proving that the car or truck driver caused the accident, and that my client did everything they reasonably could to avoid the crash. Knowledge as to how the human body reacts to the g-forces that accompany sudden deceleration is also helpful, such as when a motorcycle hits a car that pulls out in front of it.
If you were seriously injured in a motorcycle crash, I can help you obtain the compensation that you rightfully deserve. If your loved one was killed in a motorcycle accident, I can also help you file a wrongful death claim to obtain just compensation for your loss.
Thorough Investigation of Motorcycle Accidents
My first task in evaluating a motorcycle accident case is to understand and document how and why the crash occurred. This usually involves using the services of an experienced investigator who will visit and photograph the accident scene, photograph the vehicles as they appear after an accident, and take recorded statements of any witnesses to the accident.
Other important sources of information include obtaining a tape recording of any 911 calls that were made after an accident to the local police department. Although a witness to an accident may not have waited at the accident scene to speak to an investigating police officer, they may have called 911 and reported the accident. Typically, the 911 operator asks for the individual's name and telephone number when they call. I have had a number of cases where I was able to identify and contact important witnesses to an accident from a 911 recording.
Onboard data recorders that are found in most cars and trucks can also provide valuable information. When an airbag is deployed in an accident, these devices will record valuable information such as the speed of the vehicle before the airbag was deployed, its direction, and when its brakes were applied. Such objective evidence is very valuable in proving who was responsible for an accident.
However, this information is only available for a short time after an accident before a wrecked vehicle is scraped or repaired. Thus, it is important to contact an attorney with experience in such claims as soon as possible after an accident so that important evidence may be preserved.
Another part of my investigation involves evaluating the long-term effects of your injuries. This includes an evaluation of how your injury may affect your ability to earn a living and perform normal activities that we all take for granted. For example, if you suffered a serious knee or ankle injury, although you may be able to return to work now, in the future you may not be able to continue to work because of post-traumatic arthritis, especially if your job requires being on your feet a majority of the day.
No matter what the extent of your injury is, my goal is to get you the compensation you need and deserve to return to a normal life as soon as possible.
For experienced help after a motorcycle accident or to talk to me about your injury, contact James F. Ludlow, Attorney at Law, P.C. My firm can be reached toll-free at (877) 897-9466 or by filling out the simple form on the Contact Us page.