Bicycle Accidents – Aggressive, Effective, and Experienced Representation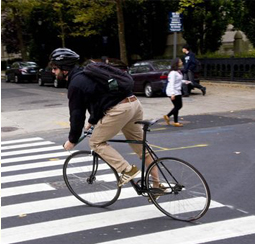 I  have represented many people who have been injured in bicycle accidents in Indiana. It is unfortunate that although many people ride bicycles for exercise or fun, this activity can turn tragic when a careless driver of a car or truck causes a collision. My experience and knowledge as a cyclist myself and of the legal issues involving bicycling helps me present a solid case in order to obtain the maximum compensation that is justly deserved.
In many cases, a bicycle accident is caused by a motorist's negligence or inattentiveness. My firm is dedicated to quickly investigate your bicycle accident claim, evaluate the severity of your injuries, and make sure that you receive fair and reasonable compensation as soon as possible so that you can get on with your life. To accomplish this goal, I usually have an experienced investigator visit and photograph the accident scene, photograph the vehicle and bicycle that were involved, and take statements from any witnesses to the accident. Because orthopaedic or neurological injuries are common in this type of accident, I also usually meet with the client's treating physician(s) to discuss the nature and extent of the client's injury.
Injuries that are common in a bicycle accident include:
• Brain and spinal cord injuries
• Knee injuries, such as torn ligaments
• Neck and back injuries
• Broken bones
• Herniated discs
• Post-traumatic carpal tunnel syndrome
• Facet joint injuries
• Shoulder injuries, such as rotator cuff tears
No one can change the past, but working together, we can change what happens next.
My firm is dedicated to understanding how a serious injury affects my client's lives and obtaining the financial compensation they justly deserve.
In pursuit of this goal, my firm employs a registered nurse and consults with a variety of experts who provide invaluable insight into how an accident occurred, how the injury may affect my client's ability to earn a living or perform normal activities, and what medical complications they may experience in the future because of their injury.
For experienced help after a bicycle accident or to talk to me about your injury, contact James F. Ludlow, Attorney at Law, P.C. My firm can be reached toll-free at 877-897-9466 or by filling out the simple form on the Contact Us page.