Airplane Accidents – 

Aggressive, Effective, and Experienced Representation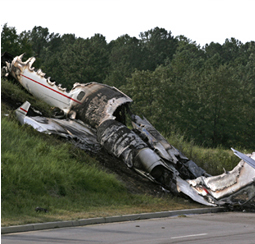 Aviation accidents are fortunately a rare occurrence in today's society. In fact, commercial air travel is without question the safest method of travel. However, financial stress in the airline industry can cause some airlines to cut corners in an effort to minimize costs, such as requiring pilots to work longer hours, hiring inexperienced pilots, and outsourcing aircraft maintenance to foreign countries where the labor is inexpensive, and unfortunately sometimes inexperienced. When a tragic commercial airline accident does occur, analyzing how the accident occurred and who is responsible is critical in obtaining just and reasonable compensation for the injured person or their family. Understanding how to document and prove the substantial injuries that are frequently seen in such accidents is also a prerequisite to obtaining a just and fair result.
Aviation accidents involving private aircraft are a far more frequent occurrence than commercial aircraft accidents. Many private aircraft have electronic weather and navigation systems that until recently were only found on commercial aircraft such as a Boeing or Airbus jetliner. While these avionics can be very helpful, it also can create a false sense of security for an inexperienced pilot, often with tragic consequences for the pilot or their passengers. In addition, air traffic controllers may sometimes provide inadequate weather information to a private pilot, thus resulting in an accident that could have been avoided. Defective maintenance of private aircraft by a contractor is also a frequent cause of accidents.
Contact Indianapolis Aviation Accident Attorney James F. Ludlow
Many people don't think they can afford an experienced personal injury lawyer, especially when they may have thousands of dollars of medical bills that they are struggling to pay. To address this worry, I offer free, personal, and confidential consultations with no obligation whatsoever. My firm works on a contingency-fee basis, and I don't get paid unless I obtain a successful recovery for you.
For experienced help after an airplane accident or to talk to me about your serious injury, contact James F. Ludlow, Attorney at Law, P.C. My firm can be reached toll-free at (877) 897-9466 or by filling out the simple form on the Contact Us page.