Aggressive, Effective, and Experienced Representation for Car Accident Victims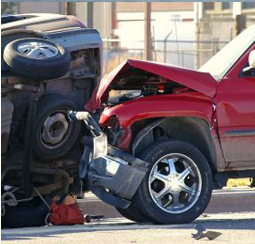 Personal injury claims often involve a car accident, bicycle accident, or car-pedestrian accident. My practice is exclusively limited to personal injury and wrongful death claims, and I help injured people receive financial compensation they justly deserve because of a serious accident.
 A Great Financial Recovery Is No Accident
I founded my personal injury law firm in 1989 and have only represented accident victims since. With over 25 years of experience, I understand how a car accident with serious injuries can adversely affect even the simplest aspects of daily living, both now and in the future.
For example, most of us take for granted the ability to walk. However, if you suffered a knee injury in an auto accident, a simple activity such as walking can be painful. If you have a job that requires you to work on your feet a majority of the day, you may no longer be able to work at this same job in the future.
How your injury affects your ability to earn a living in the future is something that is very important to consider. If your car accident caused a serious injury that affects your ability to work and participate in normal activities, I will strive to get you the compensation you deserve.
My firm handles cases of serious injury that are caused by a car accident. Injuries that are common in an auto accident include:
Brain and spinal cord injuries
Knee injuries, such as torn ligaments
Neck and back injuries
Broken bones
Herniated discs
Post-traumatic carpal tunnel syndrome
Facet joint injuries
Shoulder injuries, such as rotator cuff tears
If your loved one was killed in a car accident, I can also handle the details of your wrongful death claim.
Indiana Car Accident Lawyer – James F. Ludlow
No one can change the past, but working together, we can change what happens next.
My firm is dedicated to understanding how a serious injury affects my client's lives, and obtaining the financial compensation they justly deserve. To assist me in this goal, my firm employs a registered nurse and consults with a variety of experts who provide valuable insight into how an accident occurred, how the injury may affect my client's ability to earn a living or perform normal activities, and what medical complications they may experience in the future because of their injury, such as post-traumatic arthritis.
Providing Quick Action to Preserve Car Accident Details
My firm will quickly investigate your car accident claim, evaluate the severity of your injuries, and make sure that you receive fair and reasonable compensation as soon as possible so that you can get on with your life.
To accomplish this goal, I usually have an experienced investigator visit and photograph the accident scene, photograph the vehicles as they appear after an accident, and take recorded statements of any witnesses to the accident. In many cases, I will also personally meet with your treating physician to make sure that I have a good understanding of your injury and its long term affects on your ability to earn a living and perform normal activities.
Other important sources of information that I typically gather include obtaining a tape recording of any 911 calls that were made after an accident to the local police department. Although a witness to an accident may not have waited at the accident scene to speak to an investigating police officer, they may have called 911 and reported the accident. Typically, the 911 operator asks for the individual's name and telephone number when they call. I have had a number of cases where I was able to identify and contact important witnesses from a 911 recording.
Onboard data recorders that are found in most cars and trucks can also provide valuable information. When an airbag is deployed in an accident, these devices will record valuable information such as the speed of the vehicle before the airbag was deployed, the direction of the vehicle, and when its brakes were applied. Such objective evidence is very valuable in proving who was responsible for an accident.
However, this information is only available for a short time after an accident, before a wrecked vehicle is scrapped or repaired. Thus, it is important to contact an attorney with experience in such claims as soon as possible after an accident so that important evidence may be preserved.
For experienced help after a car accident or to talk to me about your injury, contact James F. Ludlow, Attorney at Law, P.C. My firm can be reached toll-free at (877) 897-9466 or by filling out the simple form on the Contact Us page.